Welcome to the Winter Wonderland!
2022 SESSIONS:
DAYTIME & NIGHT LIGHT SESSIONS – one weekend only:
Saturday, October 22nd & Sunday, October 23rd
1:00pm – 5:30pm & 6:30pm – 9:30pm
These limited sessions sell out every year so book soon!
If you want a unique and fun experience for your Christmas photos – this is it! Every year, our team works long hours to create a true outdoor Winter Wonderland with tons of "real" snow on the ground, the trees and falling down around you from above. A lot of people wonder how we can capture the right photos in just 15 minutes. All I can say is that the snow works wonders! Kids and adults alike light up as they actually ENJOY their session where they don't have to just sit stiff and smile. Forget the fake grins – let us capture you and your loved ones genuinely having a great time together!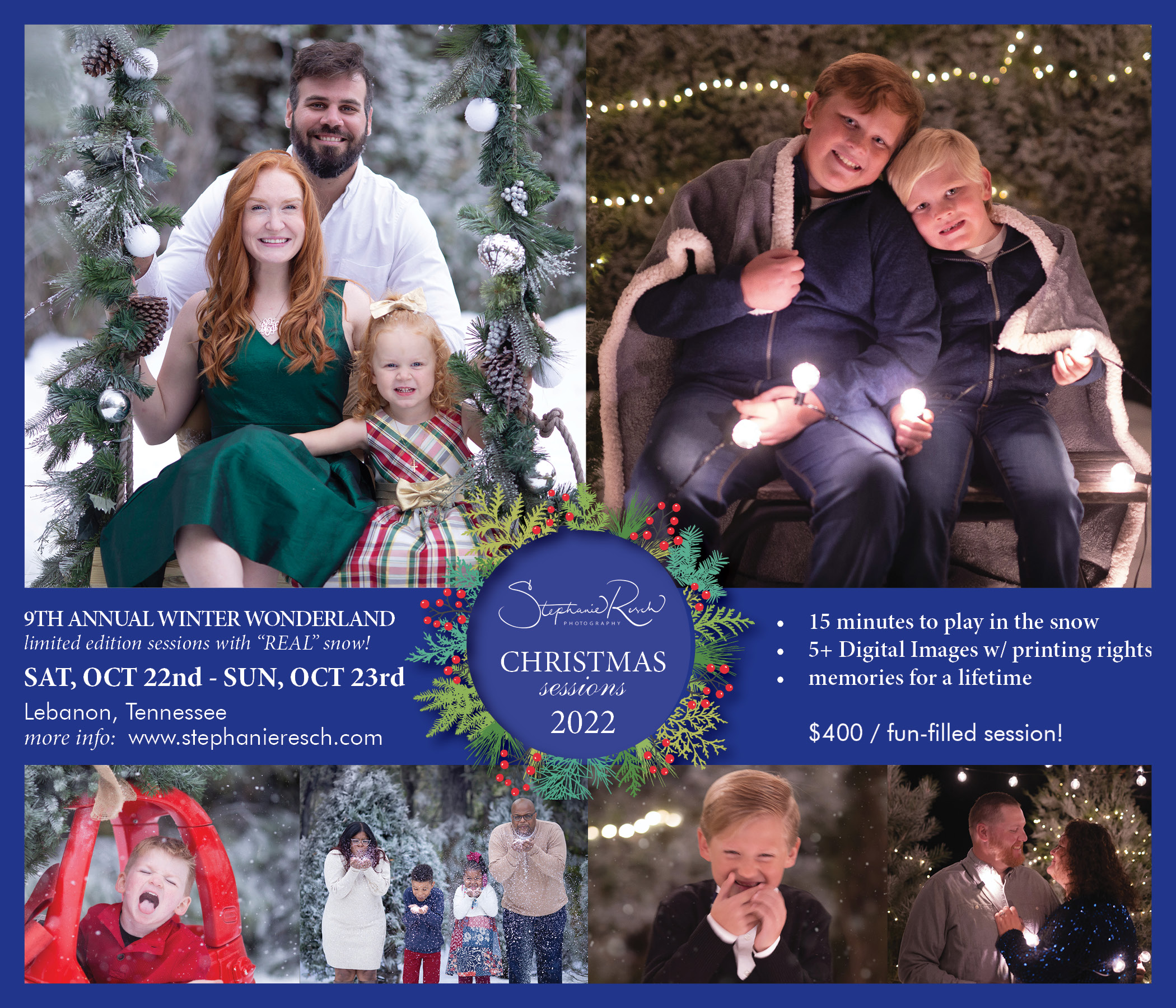 EACH SESSION INCLUDES:
The Winter Wonderland experience with lots of "real" snow
shot on our property in Lebanon, TN
15 minutes to pose and play

You get to choose 3 different backgrounds / setups
Online photo gallery where you choose from fully edited images (12-25 total images per gallery)
5 Digital Images included in base "Silver" price
* may upgrade image count with packages below
print release form included for all selected digitals
memories to last a lifetime!
ONLY $400 / session
upgrade your package…
++ purchase add. individual images after the session for $25 each
++ $50 UPGRADE to GOLD and double up with 10 images for ONLY $450 (total)
++ $100 UPGRADE to PLATINUM and get the whole gallery!! (a guarantee of 12 images but could be as many as 20!! Average is 15!!) for ONLY $500 (total)
++ DOUBLE SESSION SAVINGS: Get both a day AND night session OR book a double session to add more time (and get all the backdrops for the daytime). Double sessions are double the base price but you are upgraded to Platinum status at no additional cost! (a $200 savings!!)
TO BOOK:
Send a message by email to: [email protected] OR via Facebook at: https://www.facebook.com/stephaniereschphotography/
Include the following information:
> Type of Session: Day / Night or Both (or double)
> Day preferred: Saturday or Sunday
> Number of people that will be in your party
> Level of Package: Silver, Gold or Platinum
> Preferred Contact Email Address
After we receive this information, we will set up your spot and send you a confirmation and more info via email. We will also send you an invoice for 50% deposit via PayPal. We will also add you to a closed Facebook group for this year's sessions where you can stay up-to-date on any news as the sessions approach. It's also a good tool to get advice on wardrobe and props. (don't worry – if you don't have Facebook, we'll keep you in the loop on all the essentials via email)
ADDITIONAL COVID-19 PRECAUTIONS:
Our team will be practicing safety measures and have all been fully vaccinated.
ADDITIONAL DETAILS (and fun ideas):
Every year, I set up a private Facebook group where we share ideas for props, outfits, etc to help you best prepare for the session. You will also get up-to-date notices on any weather issues, rescheduling, etc. More than the information, it's a really fun group each year! Once you book, you will be invited to join.
That's all there is! So what are you waiting for? Book before they're gone!